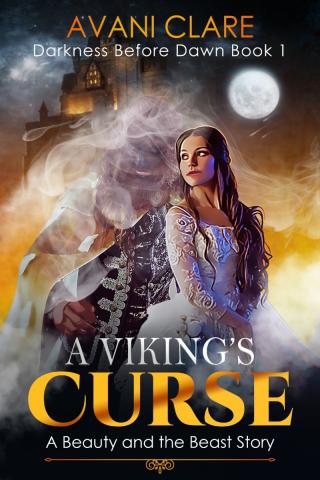 New historical fantasy novel published by Avani Clare launched on January 1, 2022
Avani Clare launches her brand new book, "The Viking's Curse, Darkest Before Dawn Series Book 1", a fairy tale available on Amazon targeting fans of the Romance, Historical and Fantasy genres. More information is available at: https://avaniclare.com
Springfield Lakes, Australia – December 30, 2021 –
Avani Clare, mother of three and avid reader of history, fantasy and romance, launches her brand new book, "The Viking's Curse, Darkest Before Dawn Series Book 1". The book went live on January 1, 2022, available on Amazon and published by Lighthouse Publications.
More information about the book can be found here: https://avaniclare.com.
Although already writer by trader, it is the first fictional book that Clare has written. The book was written to give Beauty and the Beast a new, deeper romantic twist, with elements of alternate history and English lore.
The Viking's Curse, Darkest Before Dawn Series Book 1 focuses on introducing the main characters: a Viking commander who is cursed by the forest elves because of a tragedy he unintentionally caused, and a woman courageous and loyal, who, being English and a warrior, is her sworn enemy.
When asked why she wrote the book, Clare said, "I currently work in business and academia which luckily I enjoy. But deep down, I've always wanted to write for entertainment, and especially to write a fairy tale, the kind of story that I love since I was little.
"I particularly liked the idea of ​​an adaptation of Beauty and the Beast. It's a classic – a true love story that goes beyond appearances. And I wanted to add more depth to it, so I incorporated the idea of ​​two people on opposite sides of a war, the English and the Vikings.
"The term 'fairy tale' could give the misconception that only children love them. But I am one of those adults who appreciate them so much. These are more than bedtime stories. And when written for adults, they transcend all barriers, including age. I think adults earn more than just fun telling fairy tales. But if my story can at least provide pure entertainment for an hour or two, that's more than enough for me.
Avani Clare has a background in communication management, history and social research. She says her training, particularly in sociology and history, helped shape the creation of the book by providing her with many problems to discuss in a fictional context.
Clare says, "I've touched on some issues that I hope readers can relate to, that some people might even find uncomfortable. You know, if you think back to most of the fairy tales told to children, they're not about perfect people. They often portray the darker aspects of life. And I hope that when I write about it, it's in a way that is easy for readers to understand and identify with, regardless of age, race, and culture.
"This is only my first book, really, and like all new authors, I have a lot to learn. I'm already writing books 2 and 3, and I'm thinking about future fairy tale stories like Cinderella, Snow White, so I hope people give me a lot of feedback. I encourage readers to tell me what they like and dislike about this first book so that I can incorporate their suggestions into future ones.
This positive outlook on the author is certainly a testament to his optimism given some of the incidents that arose during his creation.
At one point, she admitted with a chuckle, "I almost gave up! While I was preparing this book, an abnormal hailstorm in Brisbane severely damaged my home and my whole family was forced to move for seven months. We have moved 11 times during these months. Believe me, thinking about the story was very difficult. I also discovered something that called into question my commitment to becoming an author. Being a natural lover and reader of heaps and heaps of books doesn't necessarily mean that you are a natural writer. But reading the stories of how some writers started their writing journeys inspired me to continue. "
In a recent interview, Clare wanted to thank her family and friends for their role in creating the book, saying, "My friends, Sarma and Lilly, who served as beta readers and gave me much needed encouragement to continue writing history. A big thank you also to my daughter Pia, my forever cheerleader; my family, especially my herbal husband, Victor, who was forced to eat instant meat dishes; and Joseph who had to go on a takeout diet while I was on the home stretch to complete Book 1. I want to thank Annie for helping me keep my outline on her straight and narrow path, and not not keep making detours and sprouting crazy subs-plots, and my adorable and super talented editors, David and Eveanna, and my awesome eCover designer, Noel. Last but not least, I want to thank the people who gave me tons of inspiration to begin with: Ty and Caroline, I am forever indebted to you.
Avani Clare lives in Brisbane with her husband Victor, three children and their spouses and partners, a constantly misbehaving vegetable garden and an elderly, cranky cat.
Those wishing to learn more about the book can visit here: https://avaniclare.com or mybook.to/Darkest1.
Contact information:
Name: Avani Clare
Email: send an email
Organization: Avani Clare
Address: 37 Neptune Street, Springfield Lakes, Queensland 4300, Australia
Website: https://avaniclare.com
Version number: 89058415
COMTEX_399857943 / 2773 / 2021-12-30T21: 09: 27