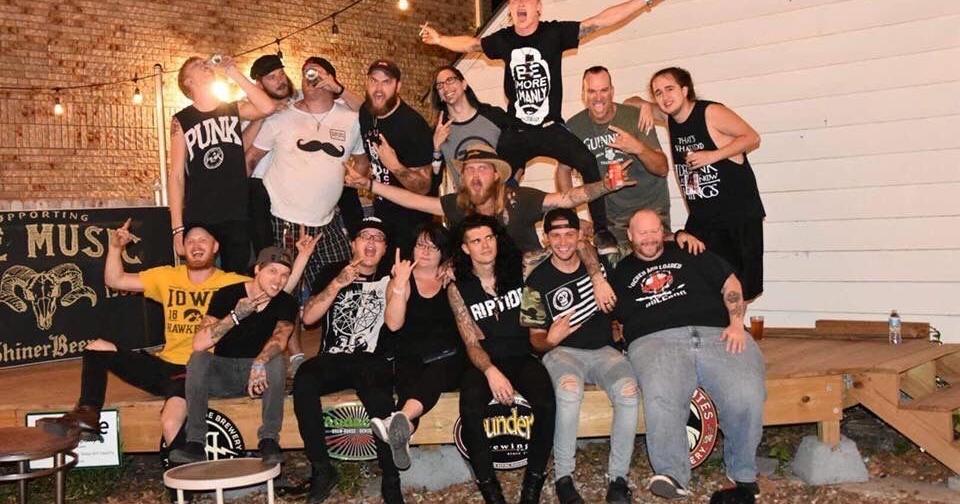 Romance and rockstars inspire Hernando, native of the pen of a paranormal series | News
Theresa Hissong was three hours north of Biloxi on December 10, driving a motorhome south with her group, Artifas. She is the group's tour manager, but that's just her daily job. Theresa is also a writer of paranormal rockstars and suspenseful romances.
She is the author of the Rise of Pride series, striving to create the perfect love story, and was inspired by DeSoto County.
Theresa remembers spending time on her grandparents' land as a child in eastern DeSoto County, near Ingram's Mill Road. George and Mary Dees instilled a love for the survival of the earth.
"I spent every moment of my childhood with my grandfather and my grandmother. They were my babysitter when my parents were working. They pretty much taught me how to make a living off the land, "Theresa said. "We fished a lot, did a little hunting, that's where my love for DeSoto County blossomed. I just loved the area. I like nature."
Theresa's parents are Tom and Linda Windham. She has a living sister, Bridget Windham; her husband, Wayne, and her children, Nathan Hissong and Sara Hissong.
Her studies took her to the University of Missouri and then she moved to Arizona. Accounting seemed attractive at the time as a career choice.
"I got to a point where I didn't like it," Theresa said. "I took some English lessons, writing lessons. Then I ended up meeting my adorable husband. He lived in the apartment complex I lived in. He being a really cute soldier, we decided to get married.
Theresa dropped out of college when she thought she and her husband were going to be relocated due to her service in the United States Air Force. The move did not take place.
"I have never been back," she said. "I ended up getting married and having children. Then I was a mom for a long time.
Wayne served in Iraq and was deployed for approximately ten months between 2008 and 2009.
"I asked my best friend, 'What am I going to do for ten months? "She said, 'You have to write a book,'" Theresa said. "I laughed! I knew I hadn't written in years. She said, 'Try it.' So I did it.
The first book was written between Wayne's home visits, which were few in number. Theresa avoided mainstream news during the time and continued to write. The stories of rockets, bombings and terrorists did not interest him.
Facing the blank page to create a fictional world meant Theresa could express the inspirations she had stored in her imagination.
"I built this world and then I had a story in my head," Theresa said. "When I write or create, it's like a movie in my head. Then I describe what I see in my head.
Wayne officially retired from military service in May 2013. By that time, Theresa had a completed book. It took five years of writing.
"In June 2013, I released this book," Theresa said. "It snowballed from there. I just completed the 53rd book I have ever written.
Not all of Theresa's writings are published. Literary inspiration was taken from Stephanie Meyer's Twilight series with JR Ward, RE Butler and Theresa Gableman.
"(Gableman) is one of my best friends now," Theresa said. "We plan to do a co-authored book together next year. Twilight (series) has always been my favorite and always will be. It just grabbed me. I could feel the emotions in my chest.
While reading, Theresa said that she had never met a literary work that she didn't like, at least a small part of it. She appreciates the entire writing process and finds the effort a writer puts into a work with every reading.
Her influences on themes of romance, thrillers, the paranormal, action, crime and the Mafia motivate her to tell a story. DeSoto County, an early influence, fueled his "Rise of the Pride" series.
"It's like the black panther shape shifters, who live in the south of the county," Theresa explained. "These keepers, big bulky males, are trying to protect their families. They live on this large lot. Female characters are those who stand up to defend themselves.
The main female roles in the narratives are an attraction to Theresa, an aspect that she reflects in her works. It's also a personal trait she learned from her grandfather, an outdoor enthusiast, who taught her independent living.
"I am a firm believer in self-defense," Theresa said. "My daughter was in MMA (mixed martial arts) class at Olivier Branch high school. People go through things, when my story ends the character just got stronger. They learned to deal with trauma.
Theresa loves beautiful love stories. A literary goal for her is to define "the perfect love story" in her writings.
"For me, it has to start with friendship. You have to be friends before you become lovers. It's trust, openness, and knowing that the person is literally your other half. Before I met my husband, I broke up with a guy I was dating. My friend said to me: 'When you meet the love of your life, you will know it. It will never be about that other person's love for you. When I met my husband … I thought to myself, "I think this is the guy I'm going to marry."
The love of love continues to fuel his writings, with art imitating life.
The music also serves as an innuendo to her inspiration, working as a tour director for her band. Theresa and Wayne logged in to Artifas to visit the venues where they performed. They liked the music, met the band, a mutual friend asked them to help fix the drummer's car, and a friendship ensued. The band eventually asked Theresa to be their tour manager.
"We just sit there and say 'How did we become such good friends? At what point?' They are like brothers to me and my husband, our best friends, "explained Theresa. "These are five members of this group. "
Life on the road for Theresa means driving all day, sometimes at night, sleeping in Walmart parking lots. Unloading and directing, live performances and then wrapping make long days of writing in between.
"What I'm working on now is rock star romance," Theresa said. "I have a contract with a conglomerate with a lot of inspiration since writing on the road."