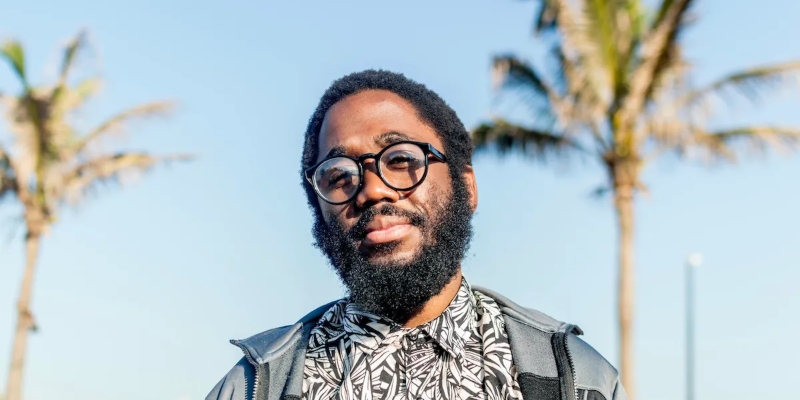 Sihle Ntuli on Bringing Durban Poetry to the World ‹ Literary Center
Microphone is a podcast for short but powerful writing. Each week features a few short pieces of fiction, creative non-fiction, and/or poetry read by the author. In the accompanying interview series, 5 Qs with Kirsten, Kirsten Reneau chats with a featured reader.
*
The sun has been linked to spirituality many times in literature and religion, but rarely is it done so precisely as in Sihle Ntuli's "The Sun Turns Us". There's obviously a deft level of craftsmanship in the layout and shape-shifting, but perhaps the most impressive part (to me, at least) is what one of my teachers once called "choose the perfect word".
The idea is simple – you pick the perfect word, every time, for every word – but how often do we really think about every word, every time? Reading Ntuli's work, one gets the impression that he does just that. It's not a beautiful line, but several perfect words, raising the tongue again and again. This language mimics the movement of the sun and adapts the reader to the physical and the spiritual, forcing us to consider both, in Ntuli's words.
Listen to Sihle Ntuli read "The Sun Turns on Us" on Micro.
Subscribe and listen in full, wherever you are, to your podcasts!
Kristen Reneau: What was the original inspiration behind this poem?
Sihle Ntuli: Durban's summers have recently become particularly unbearable. This led me to a conversation about global warming with my twin and some friends from KwaMashu. The inspiration to write the poem came when a friend brought religion into the discussion, saying that God would not abandon his children. For me, it was an interesting place to start thinking about the poem.
Kristen Reneau: There's obviously something really interesting about the way this poem moves. Not only is there this time container for each set of stanzas, but the format of the stanzas changes as we go along. Can you tell us about those decisions?
Sihle Ntuli: I used a common understanding of the times of the day (morning, day, afternoon) to build a dramatic tension that builds in intensity through each of the stanzas. The poem moves in three different directions to match each transition of the sun. I made the commitment to poetically interpret the movements of the sun while referring to philosophical and existential questions.
Kristen Reneau: You have your masters in classical civilizations. How do you think that informs your writing?
Sihle Ntuli: Classics in South Africa is currently in transition – departments are now beginning to include African mythology and civilizations in the curriculum. I recently found myself having to think much deeper about this. I would say it informs my overall poetic vision; I write with a deep respect for the craft of poetry. I honor the craft with a deep sense of passion.
That said, our contemporary poems record history just like the bards, and I recognize the responsibility that comes with that. I choose to honor the bards who once used oral poetry to preserve the origins of the Ntuli surname, alongside many others. I pay homage to a poetic tradition often overlooked but undeniably the oldest form of African literature, and which must still be respected.
Kristen Reneau: What do you think is the ideal time of day?
Sihle Ntuli: I enjoy the early morning hours, just before sunrise, when there is still enough time for darkness to set in a while before light gradually emerges. I often think a lot about my life in that little window. I dream of the person I want to be until the sun comes up.
Kristen Reneau: Can you talk a bit about your writing process in general, where you find inspiration, and tell us about the submission process for this piece?
Sihle Ntuli: I write in cycles rather than writing every day. Sometimes I choose a month and try to write a poem for each day. I then edit the usable poems for a few months until I feel they are ready. I submitted for the Red Velvet issue of hellebore end of 2020; editor Denise Nicole Andrews was super flexible and open to suggestions (which I appreciated). It was also my very first publication in the United States. I find inspiration everywhere in my daily life, although my ultimate inspiration is to showcase South African culture, and specifically to bring Durban's poetry to the world.
_____________________________
Microphone is edited and curated by Dylan Evers and produced and hosted by Drew Hawkins. The theme song is by Matt Ordes. Follow the show on Twitter at @podcastmicro.
Sihle Ntuli is a poet and classicist from Durban, South Africa. He has published poetry in The Rumpus, SAND Journal, Lolwe & Transition Magazine, among others. He is the author of the chapbook Rumblin (uHlanga, 2020).
Kirsten Reneau is a writer, teacher and interviewer. She got her MFA from the University of New Orleans in 2021 and now lives there with her dog. Her personal work can be found online at http://www.kirstenreneau.com.