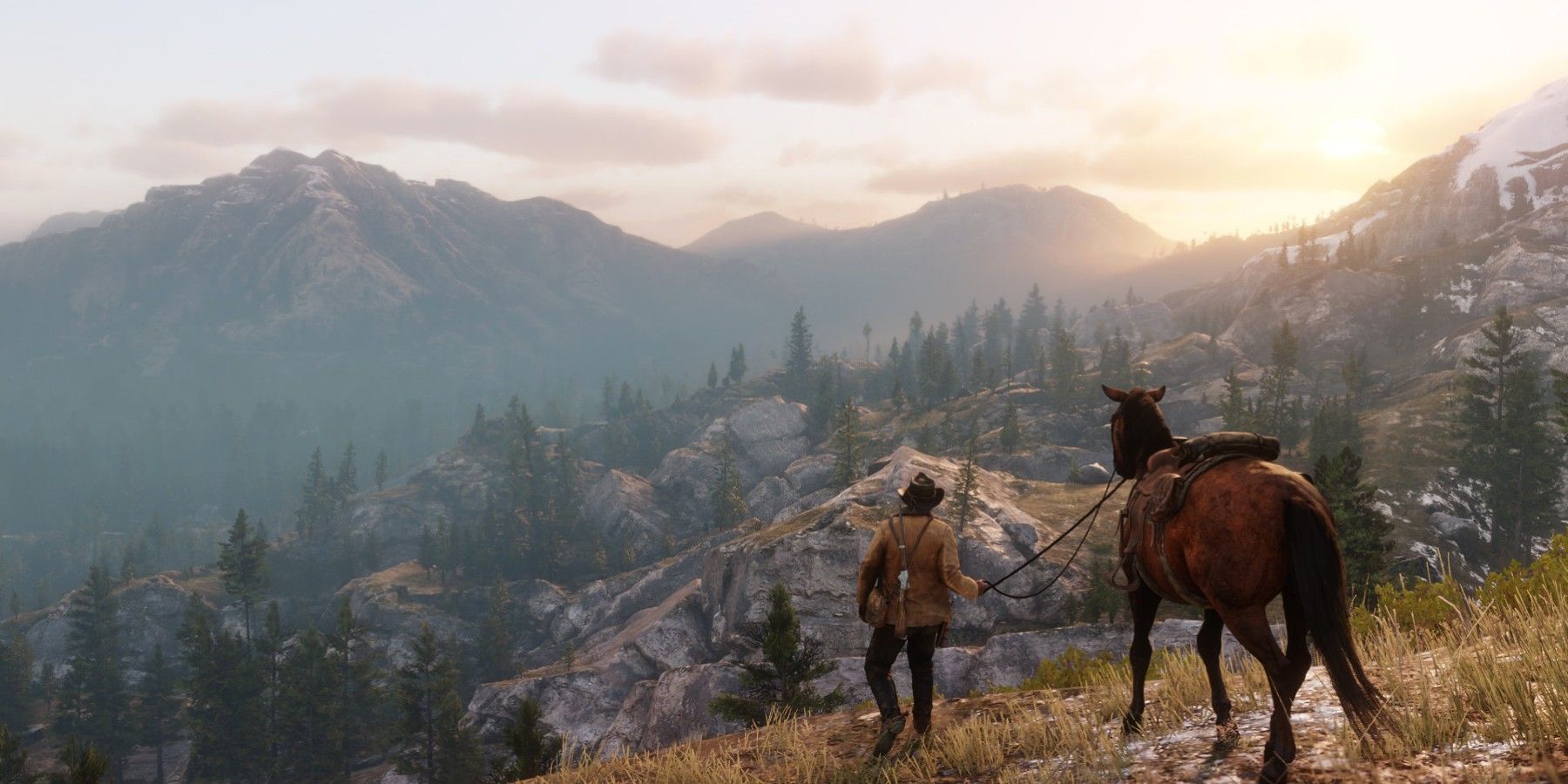 The world needs more historical fiction games like Red Dead Redemption 2
The video game industry is blessed with the wide variety of titles it offers. Particularly in recent years, where indie outfits have become more prominent thanks in part to the democratization of game creation tools, as well as an ever-growing appetite for video games. There are still popular AAA titles and long-running franchises, but now more than ever the range of games available is staggering. Games like epic western adventure Red Dead Redemption 2 can exist alongside small puzzle-based games like Valiant Hearts: The Great Warbut both explore their historical settings in beautiful detail.
While there are plenty of games out there that feature real-world historical settings, none of them do it quite like Red Dead Redemption 2. There is a plethora of WWI and WWII games out there, with series like Call of Duty and Medal of Honor using these era-defining conflicts as settings for their action, but games that explore their various historical settings away from battlefields and combat scenarios are much rarer. Red Dead Redemption 2 was a nuanced, detailed look at a very specific moment with a setting-specific storyline, and more games should follow in its footsteps.
RELATED: Why Red Dead Redemption 3 Needs To Happen
How Red Dead Approaches Its Setting
Red Dead Redemption 2 was a ridiculously ambitious game. It's not only huge, but its story is expansive and aims to completely encapsulate a moment and place in time perfectly. Set in 1899 as a prequel to Red Dead Redemption, the game follows the Van der Linde gang through the eyes of outlaw Arthur Morgan. A layer of sadness and emotion is present throughout the game, as players will know how this story ends and the fate of various characters (mostly) if they played its predecessor.
This also carries over into the historical setting of the game, as players will likely also know that the turn of the century began to introduce many changes to the world of Arthur Morgan and his companions, and Red Dead Redemption 2 represents the dying gasps of their way of life. Among the fast-paced action and thrilling heists players can take on, there's a chance to simply explore the stunning landscapes and see firsthand what life was like in the west, midwest, and south. of the United States at that time.
The impact it has on the game
Many players may have thought they already knew the tropes of the western genre and knew what a story of outlaws and cowboys would entail, but Red Dead Redemption 2 effectively reduces this. It overturns the assumptions of heroic Western nomads and their law-defying antics and presents players with a bittersweet elegy to the West and those who have desperately tried to carve out their own space there. The historical setting is such an important part of storytelling, and it's hard to imagine the story of Red Dead Redemption 2 work at any other time or place.
It's not just the breathtaking vistas and varied environments of Red Dead Redemption 2's that elevate the title, but also its embrace of the rapidly changing world in which it is set. It questions the twisted morality at the heart of outlaw life and the balance of power at the frontiers and edges of civilization. It tells the stories of those who are often overlooked and uses its historical setting as a compelling backdrop for its tale of power, betrayal, reunited family and justice.
In a game as big as Red Dead Redemption 2, players will naturally spend a lot of time in its setting. It needs to be compelling, authentic, and immersive, and luckily the game manages all three. Its world not only makes players feel like they're saddling their horse and traveling across vast landscapes, it's also begging to be explored.
RELATED: Rockstar Shouldn't Let Red Dead Redemption Go The Way Of Bully, Midnight Club
Why other games should follow suit
Futuristic sets bathed in neon like Cyberpunk 2077's Night City or No Man's SkyThe vast planetary arcade may be an amazing place to explore, but the real-world historical settings can provide an incredibly rich experience and are relatively underutilized. What Red Dead Redemption 2 highlighted so perfectly is that emotional and unforgettable stories can be told in these beautifully realized environments, and they can have added meaning as they are based on the player's world. But it's also their own world like they've probably never seen it, and it offers as much excitement and adventure as a fantasy or sci-fi setting.
With open-world game settings becoming so ubiquitous, and with rapid advancements in technology allowing game worlds to become even more realistic and breathtaking, historical settings lend themselves perfectly to the medium. Red Dead Redemption 2 is a technical marvel, but it marries its impressive graphics and digital advancements with a story that has its setting at its heart. There have been plenty of technically excellent games with stunning visuals before, but translating real-world environments into this format is a very special feat. Particularly historical, which are both familiar and foreign to players, and creating these worlds which also have beautifully told stories at their heart is rare.
There are games with historical settings, and then there are games that do historical settings like Red Dead Redemption 2. Games like this make their setting almost an additional character with as much importance as the protagonist, and imbue their narratives with every facet of their locations. There have been similar titles that have found that kind of balance, like the historical epic from Sucker Punch Productions Ghost of Tsushima set up during the first Mongol invasion of Japan, but they are still rare.
Most historical games seem to focus on similar time periods, and there are plenty in the last century that don't offer much variation from what came before. There are literally countless places and thousands of years of human history to explore, and a game with a format similar to Red Dead Redemption 2 could do justice to these historical settings. It would be great to divert attention from North American and European stories as well, as these stories tend to dominate Western media and exclude other diverse perspectives that exist around the world.
Red Dead Redemption 2 is available now on PC, PS4, Stadia and Xbox One.
MORE: Few Red Dead Redemption 2 Characters Get Happy Endings
Star Wars learned the wrong lesson from Solo
Read more